Section 21 of the Trade Marks Act, 1999 provides for opposition to registration. Any person can give notice in writing of opposition to the registration within three months from the date of advertisement or re-advertisement of an application for registration.
In a case the Madras High Court observed that the Trade Marks Act, 1999 is a special Act. It gives a special right to the parties who want their goods and services to be protected by getting a registration of the trade mark. Anybody who is keen to oppose any such registration has also to be vigilant and has to oppose the registration in the prescribed manner, in the prescribed time, an on payment of prescribed fee within the time provided for that purpose. The counter-statement is also to be filed in the prescribed time and in the prescribed manner. The notice of opposition and the counter-statement are like the plaint and the written statement of the proceeding. If the special Act provides for specific time, manner and fees for filing of the plaint, it has to be so done in compliance and the requirements cannot be relaxed. Sub-section 21(7) of the Act provides only for amendment, but that cannot be constructed as a provision to cure any deficiency in the requirement of sections 21(1) and 21(2) of the Act. Section 131 and rule 53 can also not be pressed into service, since that section will apply only where time is not expressly provided under that statute and rule 53 is concerning the time for leading the evidence. It cannot apply to filing of notice of opposition or the counter-statement . Any other interpretation will defeat the objective of the Act;
Allied Blenders and Distillers Pvt. Ltd., Mumbai v. Intellectual Property Appellate Board, Chennai,
AIR 2009 Mad 196: 2009 CLC 1433: 2009 (7) Mad LJ 36.
Where the counter-statement under section 21(2) was filed within the prescribed period, but was deficient in fee by Rs. 20 and it was not made good in time. The Delhi High Court held that the Registrar was justified in making an order about abandonment; Seiko Cables of India v. Hattori Seiko Company Ltd., 2002 (24) PTC 558 (Del).
Registration of Trade Mark
Where no notice of opposition to an application advertised or re-advertised in the journal is filed within the specified period. Or where an opposition is filed and it is dismissed, the Registrar shall, subject to the provisions of sub-section (1) of section 23 or section 19, enter the trade mark on the register.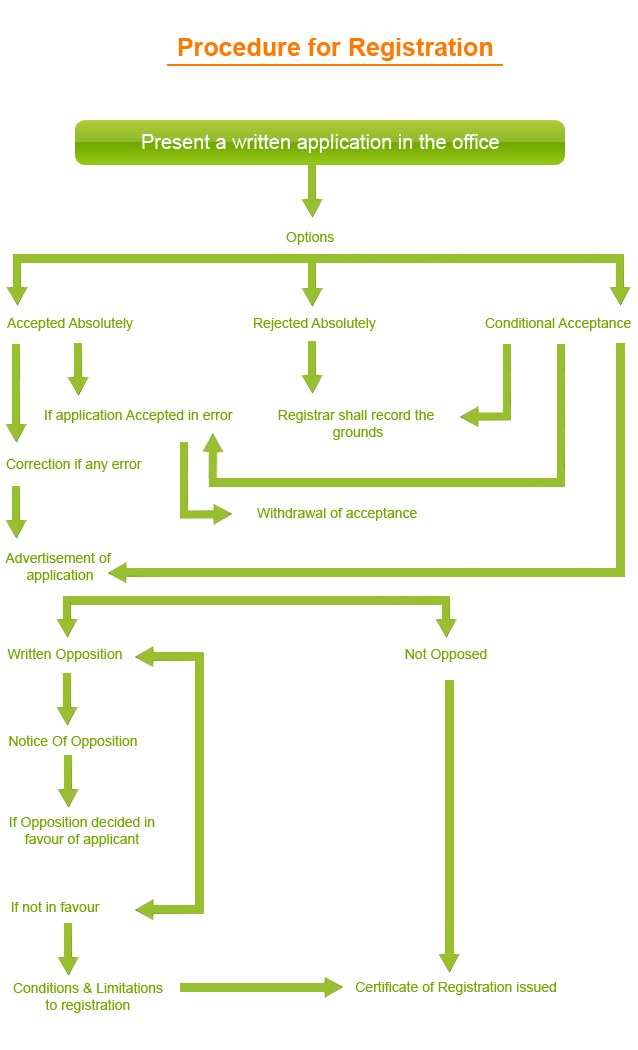 Absolute grounds for refusal of registration
Section 9 of the 1999 Act lists the following grounds being absolute grounds for refusal of a trade mark: